Description
Property name for specifying the combobox popup prototype display value which is used to compute the width of the popup at runtime. The property value should be one of:
ComboPopupPrototypeCallback - will provide application-specific logic at runtime.
Object - will point to the prototype entry itself.
This property can be set either on a specific JComboBox or globally on UIManager.
Sample code
import java.awt.FlowLayout;
import java.awt.GridLayout;

import javax.swing.*;

import org.pushingpixels.substance.api.SubstanceLookAndFeel;
import org.pushingpixels.substance.api.combo.ComboPopupPrototypeCallback;
import org.pushingpixels.substance.api.combo.WidestComboPopupPrototype;
import org.pushingpixels.substance.api.skin.BusinessBlackSteelSkin;

/**
* Test application that shows the use of the
* {@link SubstanceLookAndFeel#COMBO_POPUP_PROTOTYPE} client property.
*
* @author Kirill Grouchnikov
* @see SubstanceLookAndFeel#COMBO_POPUP_PROTOTYPE
*/
public class ComboPopupPrototype extends JFrame {
/**
* Creates the main frame for <code>this</code> sample.
*/
public ComboPopupPrototype() {
super("Combo popup prototype");

this.setLayout(new GridLayout(1, 3));

JPanel panel1 = new JPanel(new FlowLayout());
JComboBox comboProto1 = new JComboBox(new Object[] { "aa", "aaaaa",
"aaaaaaaaaa", "this one is the one",
"abcdefghijklmnopqrstuvwxyz" });
comboProto1.setPrototypeDisplayValue("aaaaa");
// set popup prototype as hard-code value in the model
comboProto1.putClientProperty(
SubstanceLookAndFeel.COMBO_POPUP_PROTOTYPE,
"this one is the one");
panel1.add(new JLabel("Hard-coded value"));
panel1.add(comboProto1);
this.add(panel1);

JPanel panel2 = new JPanel(new FlowLayout());
JComboBox comboProto2 = new JComboBox(new Object[] { "aa", "aaaaa",
"aaaaaaaaaa", "another one (not it)",
"abcdefghijklmnopqrstuvwxyz" });
comboProto2.setPrototypeDisplayValue("aaaaa");
// set popup prototype as widest value (core implementation of
// ComboPopupPrototypeCallback interface)
comboProto2.putClientProperty(
SubstanceLookAndFeel.COMBO_POPUP_PROTOTYPE,
new WidestComboPopupPrototype());
panel2.add(new JLabel("Widest core callback"));
panel2.add(comboProto2);
this.add(panel2);

JPanel panel3 = new JPanel(new FlowLayout());
JComboBox comboProto3 = new JComboBox(new Object[] { "aa", "aaaaa",
"this is not", "this one is not it",
"this one is it that is for the popup" });
comboProto3.setPrototypeDisplayValue("aaaaa");
// set popup prototype as custom implementation of
// ComboPopupPrototypeCallback interface
comboProto3.putClientProperty(
SubstanceLookAndFeel.COMBO_POPUP_PROTOTYPE,
new ComboPopupPrototypeCallback() {
public Object getPopupPrototypeDisplayValue(JComboBox jc) {
return jc.getModel().getElementAt(
jc.getModel().getSize() - 1);
}
});
panel3.add(new JLabel("Custom callback"));
panel3.add(comboProto3);
this.add(panel3);

this.setSize(400, 200);
this.setLocationRelativeTo(null);
this.setDefaultCloseOperation(JFrame.EXIT_ON_CLOSE);
}

/**
* The main method for <code>this</code> sample. The arguments are ignored.
*
* @param args
* Ignored.
*/
public static void main(String[] args) {
JFrame.setDefaultLookAndFeelDecorated(true);
SwingUtilities.invokeLater(new Runnable() {
public void run() {
SubstanceLookAndFeel.setSkin(new BusinessBlackSteelSkin());
new ComboPopupPrototype().setVisible(true);
}
});
}
}
The screenshot below shows popup prototype set to a model entry: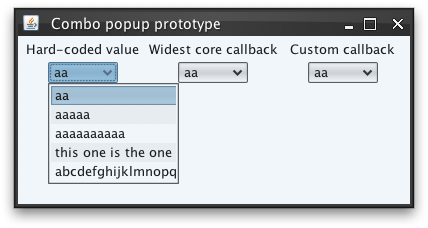 The screenshot below shows popup prototype set to the widest entry (core WidestComboPopupPrototype implementation of the ComboPopupPrototypeCallback interface):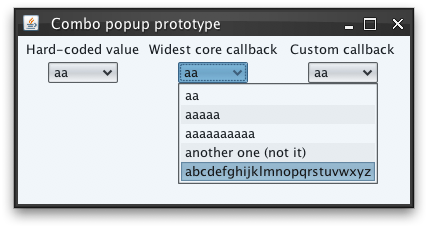 The screenshot below shows popup prototype set to the widest entry (custom implementation of ComboPopupPrototypeCallback interface):