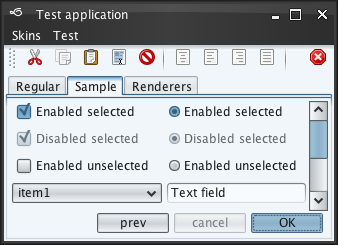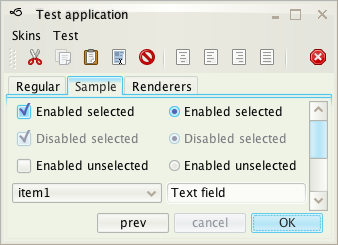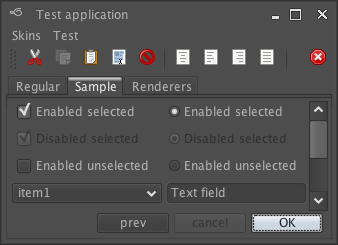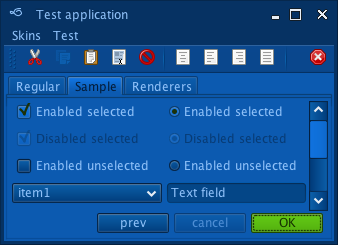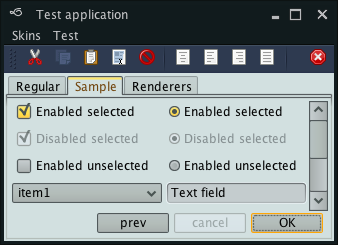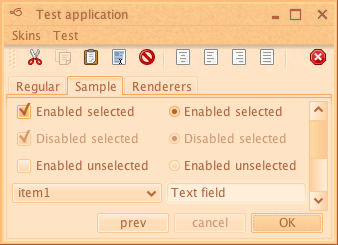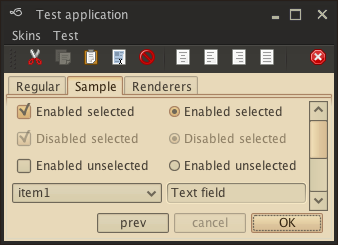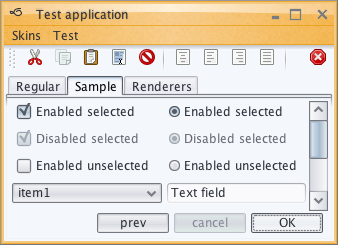 Substance test application
Click on the button below to launch a signed WebStart application that shows the available Substance features.

The test application is structured in the following way:
The left hand side shows control panels. There are two global control panels that are always present. The first control panel allows experimenting with global settings, and the second control panel allows opening various dialogs.
The center tabbed pane shows different types of Swing core controls.
Some tabs in this tabbed pane have associated control panels. If the selected tab has a control panel, it is added to the left hand side.
You can switch Substance skins via the "Skin" or "Look & feel" menu items. In addition, you can test the support for high-resolution monitors via "Sizes" tab or the font size slider in the application status bar.
The left side of the application status bar shows the build stamp and the version of Substance.
The test application requires a number of jar files. These are bundled in the WebStart application, and can be downloaded separately from the "Documents & Files" section of the project site.
substance-tst.jar - contains the test application and its resources. The main class is test.Check and most of the tabs are implemented in the test.check package.
substance.jar - the Substance look-and-feel itself.
trident.jar - the Trident animation library. Is used for the animation effects.
forms-1.2.0.jar - FormLayout from JGoodies. Is used to layout most of the panels.
swingx.jar - SwingX. Is used for the status bar and the control panel task pane container.
substance-swingx.jar - Substance plugin for SwingX. Is used to provide consistent appearance for SwingX controls.