The Bramble plugin provides support for native text rendering for the core Swing components. When this plugin is in the runtime classpath, the texts on the vast majority of core Swing component will be painted with the native OS calls (via usage of SWT).
The following screenshot shows a sample application running under Windows Vista and JDK 6.0, using the default OS font (Segoe UI, 12 pixels):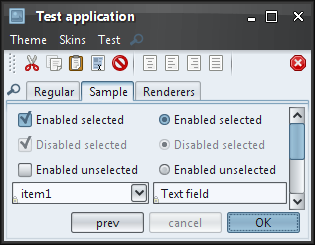 Here is the same application running under the Bramble plugin (native text rendering):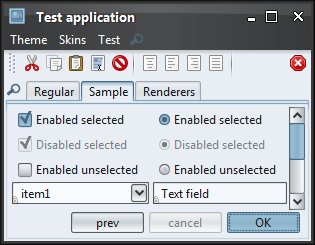 Here is another screenshot that shows the default and native rendering of text components (note the rendering of digits). The first and second row use the default AWT rendering, while the third and fourth row use the native rendering:

To use the Bramble plugin, you will need the matching SWT distribution. This can be downloaded from the SWT main page. Recommended version is 3.3. To use the plugin in the WebStart environment, use the resources JNLP tag and sign the SWT jar if necessary.
Bramble plugin provide support for all core Swing components with the following exclusions
Non-plain text components, including text panes and editor panes.
HTML text.
itled borders.
The text on all these components (including HTML) is painted with the default core AWT text font rasterizer.